Speaker Information
Wednesday- Opening Session
Keynote Speaker: DAVID RENDALL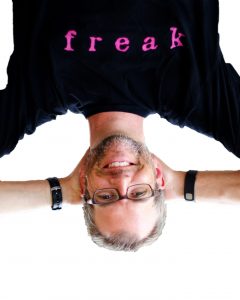 The Freak Factor: Discovering Uniqueness by Flaunting Weakness
What's your problem? I'm serious. What do you wish you could change about yourself? What is the complaint that you hear the most from those closest to you, your friends, co-workers, and family members? Are you too loud or too quiet, too hyperactive or too sedentary, too organized or too messy? You get the idea.
So, what should you do? Most people think that they should find and fix their weaknesses. Unfortunately, this just leads to frustration and failure. Your weaknesses are actually the best clue to your strengths. Furthermore, building your strengths, not fixing your weaknesses, is your best strategy for success.
This presentation will encourage you to become more of who you are, not to turn you into someone else. It's about becoming more different and more unique, not more average and more mediocre. You will learn how to:
Discover your distinctive strengths and weaknesses
Frame your unique characteristics in a positive way
Find situations that highlight your positive qualities
Maximize your self-control
Implement permanent procrastination
During the last fifteen years, David Rendall has spoken to audiences on every inhabited continent. His clients include the US Air Force and the Australian Government, as well as companies in the Fortune 500 including, AT&T, State Farm Insurance and Ralph Lauren.
Prior to becoming a speaker, he was a management professor, stand-up comedian and endurance athlete. He also managed nonprofit enterprises that provided employment for people with disabilities. He has more than twenty years of experience leading people and organizations.r of management degree in organizational leadership, as well as a graduate degree in psychology. He is the author of three books: 
The Four Factors of Effective Leadership
The Freak Factor
The Freak Factor for Kids
---
Friday- Closing Session
Capstone Speaker: DR. KEVIN SNYDER

Dr. Kevin Snyder is a motivational speaker and author with a PASSION for helping individuals and organizations empower themselves and others. Through his motivational speaking career, Kevin has presented over 1,000 keynotes and leadership seminars for organizations and conferences in all 50 states and numerous countries.
Kevin comes from a family of educators and has taught at the high school, community college and university level. Prior to creating "Empower YOUth!" Kevin held a career in Student Affairs and most recently served as the Dean of Students for High Point University. Prior to HPU, he served the University of Central Florida as the Director for the College of Education. Kevin's Masters and Doctorate degrees were both earned in Educational Leadership.
Kevin was honored by TEDx in 2013 to present, 'The Ripple Effect,' which was the largest TEDx event in the South. Kevin currently serves as the organizer for TEDxRTP and as a speaker coach for several TEDx events.
FUN FACTS: Kevin is author of several books, editor and contributing author to the newly released 'Empower Your Employees!', an adjunct faculty member with the Center for Creative Leadership, a certified skydiver, scuba diver, sailing enthusiast, & game show winner on TV's "The Price is Right!"
~ Motivational Speaker & Founder, "Empower YOUth!"
~ (>1,000 keynotes and workshops in all 50 states!)
~ Former Dean of Students, High Point University
~ Center for Creative Leadership(CCL) Faculty
~ Director for UCF College of Education
~ Author of six(6) books
~ Doctorate/Masters in Educational Leadership
~ Fun Fact: Game show winner on 'The Price is Right!'will also be offering two Breakout sessions:
Breakout #1: Success Leaves Clues: Three Concepts from my 100% Student Retention Model
Breakout#2: The PASSION Project: How to Inspire Students to Succeed
---